The next flagship phone(s) from Google likely won't arrive until late 2017, but we're already thinking about what the Google Pixel 2 and Pixel 2 XL may have in store for us.
The search giant is done with the Nexus line and in its place, the firm has created a slightly more premium, and far more mainstream range.
We're talking, of course, about the Google Pixel and the larger Google Pixel XL, two high-end handsets aimed at the same market as the iPhone 7 and Samsung Galaxy S8.
They were a strong first try too, scoring high in our reviews, but they stumbled in some areas and arguably didn't quite stack up to their rivals. But Google is sure to learn from its mistakes and make the Pixel 2 even better.
Early rumors are promising, and you can read them all below, followed by a wish list of the things we want from the Pixel 2.
Google Pixel 2 Release Date & Price
The Google Pixel and Pixel XL were both launched in October 2016, so we'd expect to see a Google Pixel 2 release date roughly a year later, in or around October 2017.
Although the Pixel line is new, it's building on the now defunct Nexus range, which also tended to have a new handset in around September or October of each year.
Rick Osterloh, Google's senior vice president of hardware, has confirmed there will be a new Pixel this year, though he didn't get any more specific than that.
According to one source the Pixel 2 will apparently carry a loftier price tag than its predecessors – something we hope doesn't turn out to be true. The old one started at $649 (£599, AU$1,079), or $769 (£719, AU$1,269) for the XL version, so it was already expensive.
How many Google Pixel 2 Phones?
The latest rumors suggest we'll get two rather than three new Pixel phones from Google, as apparently the Pixel 2 XL has been cancelled.
Instead we're in line for the larger taimen (codename) handset, and this could be very, very big – up to 5.99 inches in screen size if the latest leaks are to be believed.
It's thought to be a similar vein to the Motorola Nexus 6 from 2014. Motorola told us last year it thought the Nexus 6 was too big when it made the phone, but Google wanted the larger screen on the phone so the company made it for the Nexus project.
We expect this will be a similar situation where Google again wanted a bigger product, and given that other handsets are growing in size it's not surprising.
There has also been rumors suggesting we may get three new Pixel phones , as we've heard word of handsets codenamed 'walleye' and 'muskie' – believed to be the Pixel 2 and Pixel 2 XL respectively, along with 'taimen'. But, as mentioned above, the muskie may have been cancelled.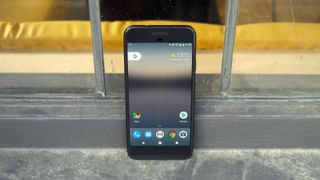 Google Pixel 2 screen
One rumor for the Google Pixel 2 is that the phone may come with a curved display when it launches later this year.
 Google has tried to put an order for curved OLED screens with the LG Display Company, which suggests the company is ready to embrace curved screens on the Pixel 2 and Pixel 2 XL. Not just that, a recent rumor states that LG itself might actually be making one of the phones.
Based on benchmarks that have appeared on the web, one of the Pixel 2 phones could come with a 5.6-inch 18:9 screen and a 2,560 x 1,312 resolution.
That 18:9 aspect ratio would make it super-widescreen, like the LG G6 and Samsung Galaxy S8, while the resolution would help with Google Daydream.
However, another source claims that the standard Pixel 2 will have a 4.97-inch screen, while a larger model will land with a 5.99-inch one.
Google Pixel 2 Design
We don't know much about the design of the Pixel 2 yet, although we have seen leaked cases supposedly designed for the Pixel 2 and Pixel 2 XL.
They're similar in a lot of ways, showing off a rear-facing fingerprint scanner on both, along with a 3.5mm headphone port (which we'd previously heard might be ditched).
Power and volume controls are all on one side of the phone, as with the original Pixel, and the overall shape looks similar, but the Pixel 2 and Pixel 2 XL may differ from their predecessors and from each other up front.
The case images include an insert seemingly showing the designs of the phones, and while the one for the Pixel 2 looks similar to the original Pixel, with slim side bezels but big ones above and below the screen, the Pixel 2 XL case insert shows and almost bezel-free design – though these could just be placeholders rather than accurate designs.
It's also rumored that the Pixel 2 will come with a . A Senior Editor at 9to5Google reported a source has said the phone will be dunkable when it's released.
Google Pixel 2 camera and battery
A source has claimed that the Pixel 2 will have an improved camera – no surprise there and they don't specify how it will be improved.
 Elsewhere, we've seen images of Pixel 2 and Pixel 2 XL cases (pictured above), which show different camera cut-outs on the two phones, so they might not both have the same camera.
 A benchmark for one of the models lists a 12MP rear camera with 4K video support, and a 7MP front-facing one. That sounds like a similar setup to the 12.3MP and 8MP combo on the original Google Pixel.
We haven't heard any news on the battery yet, but the Pixel 2's is likely to be at least as big as the 2,770mAh one in the Pixel and the Pixel 2 XL's will probably at least match the 3,450mAh one in the Pixel XL.
Google Pixel 2 Internal Specs and OS
A source revealed that the Pixel 2 will apparently feature an improved chipset, which we'd fully expect.
The same source then got back in contact with 9to5Google to reveal that the search giant is currently testing a budget Pixel handset which will have down-graded specs, but a smaller price tag.
 This rumor has since been refuted by a Google exec, so it's looking unlikely – though the exec refers specifically to Pixel, so it's always possible that a budget Google handset will land without Pixel branding.
We've also heard that a true phablet might be landing, alongside the Pixel 2 and Pixel 2 XL, so we could see at least three Pixel handsets this year.
That phablet may have been benchmarked, as a phone going by 'Google taimen' has appeared on Geekbench with a 1.9GHz (likely Snapdragon 835) chipset, 4GB of RAM and strong benchmark scores.
Those specs are in line with other recent flagships, so they're believable, especially as the Snapdragon 835 has been rumored for all three Pixel 2 handsets – though it's a configuration that might not be quite so cutting-edge by the time the Pixel 2 launches.
Very similar benchmark specs have appeared on the web more recently, and been rumored elsewhere, so it looks as though the internals of the Pixel 2 phones are coming into focus.
The benchmark also highlights its use of Android O, which we're fully expecting to see on the phone, and some of these sources also point to 128GB of storage being included